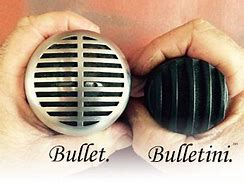 There have been sub-sized harp mics on the market for years. However our favorite vintage elements – Shure CM and CR's, Shure, Astatic and Brush crystals – don't fit shells much smaller than the traditional "JT30-size" bullets. In order to produce smaller mics, builders resort to using small, inferior elements. Their sound just doesn't measure up.
Bulletini is different. Bulletini uses The Heumann Elementtm. The Heumann Element is a brand new high impedance dynamic element developed specifically for harp players. It is in fact the ONLY element ever developed specifically for harp. It is made from a modern vocal mic element to which I make both mechanical and electrical modifications.  It has big, fat tone with plenty of bass. Ronnie Shellist says it reminds him of a vintage Ceramic element but with more output. So far it makes every small amp it has been tested with, including Kalamazoo, Memphis Mini and the Harp Train 10 sound better than anything else I know.
"I think The Heumann Element is exciting. It's remarkable that there is finally a new microphone element that harmonica players can use for great tone. The Heumann Element is The Future of harp mics!" -Charlie Musselwhite – September 2015
The Bulletini helps beginning and intermediate players sound better, but pros like it too. Just ask Billy Branch, Jon Gindick, Adam Gussow, Deak Harp, Aki Kumar, JJ Milteau, Darrell Nulisch, Charlie Musselwhite, Mickey Raphael, Andy Santana, Ronnie Shellist, Hank Shreve… the list is growing!
Harp player Dave Holtzman has been a member of Philadelphia area favorites The Little Red Rooster Blues Band since before he was legally allowed in bars. The band has spent the last thirty years spreadin' the gospel of the Blues to thirsty fans up and down the East Coast and beyond. They combine a love for both the traditional Chicago sound and jump-blues stylings into a concoction that brews up good times all around. Blues Blast Magazine describes Holtzman's tone as "haunting".  Dave says:
"I purchased my Bulletini from BlowsMeAway Productions a little over two years ago. I instantly connected with the little mic with the MONSTER TONE. I could be holding a chromatic harp against the Bulletini with one hand and the tone carries is as if I was cupping it tight with both hands. By far the best mic that ever landed in my hands. I'm convinced the signature Heumann element inside came from another world!"
Click Here To Learn More About The Bulletini Microphone and Other Products From BlowsMeAway Productions!